Growing up in England, I was a cyclist, so much so that my Mother always said that if I could have ridden my bike upstairs to bed, I would have.
However, at age sixteen I got my driving licence and, in those days, that allowed me to drive by myself or take passengers with me. My Dad had purchased a 1934 Austin 7.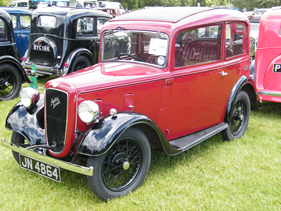 It was a neat little car which would do 50mph going downhill. After a while, I was allowed to drive it to school – while my Dad walked to school. But his school was not even a mile distant from home, whereas mine was some 5 or so miles. Note that I have been showing the speed and distance in miles, whereas I normally talk about such things in kilometres: that is because, I think using the statute system is more in accord with the time about which I am writing.
One big advantage of having the car at school was that in the lunch hour, I had time to drive over to My Beloved's (Beryl, as she was then) school and meet her; even take a quick drive over to a common. And then get her and myself back to our respective schools in time and on time. That meant that I had not had time for eating my lunch, butt what did that matter? I was seeing the one I loved, even for brief minutes.
A much different use of the car was being able to get tickets to Wimbledon and take three friends with me to watch the tennis.
Another time, I took Bill (Musker), Allan (Driz), George (Bell), all sadly deceased, and Ken (Dommett) to Bournemouth, about 30 miles from my house to see an opera. We all loved music and this was just one of the trips, others to such as Drury Lane in London. Each drive was an exhilarating experience. The Austin 7 was not built for speed indeed, it's average to get anywhere was between 35 and 40mph. So its centre of gravity did not have to be low. It wasn't. it was somewhere up in the sunshine sliding roof. However, although designed for four passengers, we often had three in the back seat. This meant that they, back there, were jammed in. The time we drove to Bournemouth, on arrival at the door of the theatre, I will never forget the face of a policeman as he watched Ken jump out the passenger door and the three in the back climbing up and out of the roof. His face was classic incredulity.
On the way there, Ken was always in the passenger front seat, on going down a hill through the New Forest (a little steeper than the pic) at max speed and on seeing an approaching left bend, I told Ken to open the door and hang out to balance the C of G. Over time, he got quite good at it. (Remember, it was right hand drive.)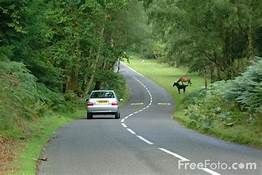 Another best friend, Michael (Ridges, whom I chose as my Best Man at our wedding), lived just a few minutes from me and our 'Gang' used to hang out there quite often. I well remember Mrs. (Betty) Ridges standing at the end of her driveway as I drove up and then proceeded to drive along the sidewalk chasing her son. She declared one day she was going to tell my parents what I was doing in the car. Mothers don't know everything about their prodigy's behaviour. She never did tell and she gave us as a wedding present, a great big bowl of beef drippings. On toast with Marmite I used to adore it and she knew only too well that I did. Those days are long gone of course. Nowadays, it's salmon and salad for dinner.
So, yes, I did have a car in High School, or Grammar School, as we knew it. And it served me, let alone our family of Dad, Mum and me, very well.
It was the same car in which I had an accident years later, after I had returned from pilot training in Canada, and Beryl and I were going somewhere local in Southampton, when a dog jumped out in front of the car. I pulled sharply to the left, hit the curb and, as the C of G was so high, it tipped over onto my side of the car. I, stupidly, tried to put my arm out to stop it from tumbling to the ground, but the car got the better of me and trapped my arm beneath it, breaking it in the process. Several people arrived on the spot and lifted the car back upright. No damage except to my arm. Beryl was fine, despite the lack of seat belts then. I ended up at an RAF rehabilitation hospital, Hadley Hall. But all of that is another story.